PUBLIC WORKS - STREETS AND SANITATION: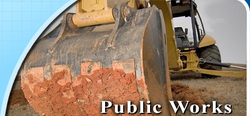 The Vandergrift Borough is voluntarily run by our Vice President of Council. We currently employ seven full-time employees and 4 part-time employees. They maintain the borough's 18+ plus miles of roads and are responsible for road repairs and maintenance, storm sewer work, street signs, mowing, winter snow and ice removal, general equipment maintenance and parks and recreation facilities. Complaints received by the Borough Office are prioritized by the Streets and Sanitation supervisor, although emergencies are handled immediately.
garage@vandergriftborough.com
724-567-7517
Vern Sciullo - Streets and Sanitation - Chair -
vernsciullo@vandergriftborough.com
Christine Wilson -
christinewilson@vandergriftborough.com
Jim Rametta -
jamesrametta@vandergriftborough.com
---
This link includes electronics, unused medicine, etc.